Fall in Love with These 4 Awesome Places in India in January
Most parts of India experience freezing breeze (windy) and chills particularly in the month of January. While some places witness snowfalls (offering stunning sight snow-covered roads and valleys for miles), other places are just ideal to travel in winter. Also, January is the perfect time to plunge into some activities away from the home. Be it taking a houseboat cruise on the backwaters of Kerala, relishing the outstanding Republic Day parade in Delhi, marvelling at the gorgeous sight of the TajMahal or staying overnight amid the wildest and fiercest animals in Jim Corbett, holidaymakers have a plethora of activities to see and do in winters. Moreover, the verdant greenery exudes life and the chills infuse positivity – what more you could ask for a better India vacation?
Below, we have compiled some of the top-notch travel destinations in India in January that will make you fall in love with them at once.
Agra: It won't be wrong to term Agra as the capital of the bygone Mughal era, considering the amount of work the Mughal Emperors have done over the centuries. Agra, a city in northern India, is perhaps the most sought-after destination in India. Housing the iconic TajMahal, the most photographed monument and one of the Seven Wonders of the World, Agra receives a whopping 1o million travellers every year. Apart from the white mausoleum, Agra is famous for Fatehpur Sikri (36 kilometres from City Centre), Agra Fort (UNESCO World Heritage Site), Akbar's Tomb and shopping destinations. Crystal Sarovar Premiere is a high-end luxury hotel located in the vicinity of the Taj. The accommodation boasts modern amenities with a tour desk and concierge services.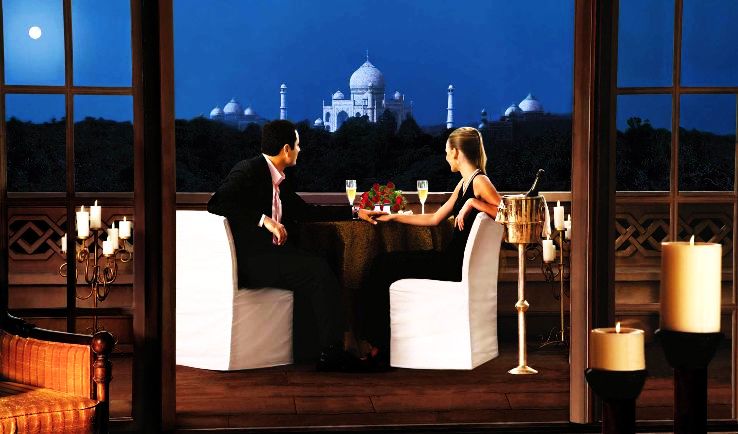 Ladakh: If frozen lakes, cascading waterfalls, and rivers tickle your mind, think of a Ladakh tour and be mesmerised with its winter look. Ladakh in January looks absolutely splendid. It is a digital detoxification trip because you might miss the hours' long chat with friends on WhatsApp and Facebook as you immerse in the incredible beauty.
Goa: One of the most celebrated vacation hotspots in India, Goa should adorn your travel bucket-list in January. Besides the pristine sandy beaches embedded with beach fashion essentials and palm trees, you will love to partake in some other activities as well. Goa Lokotsav and India Yoga Festival are amongst the most highlighting attractions in January.
Jim Corbett National Park: From jungle safari to elephant ride and from river rafting to angling, Jim Corbett National Park has to offer a wide range of amazing activities for its guests. With so many places to see near the forested wildlife sanctuary, it is wise to grab a place to stay and relish the rich flora and fauna.CHIS Kabeela Resort gives you an opportunity to relax in the lap of nature while getting away from the maddening urban life. The luxury accommodation is situated in the vicinity of Jim Corbett and comes equipped with cosy rooms and spacious en-suite baths. Guests will have access to the swimming pool, restaurant, room service, parking, etc.